Here's our guide to the best treadmills for 2020. We'll help you find the best treadmill for you according to your needs and requirements, and also one that suits your budget.
If you are trying to lose weight, stay in shape, or become more athletic, then then you must start running. It is one of those activities that help you stay fit and healthy. But, due to busy schedules or locations with heavy traffic, not everyone has the luxury to go running outdoors, so we decided to create a list with the best home treadmills.
If you're looking for the best treadmill, then the NordicTrack T Series Treadmill is the ultimate running machine you can buy. It's suitable for both amateur home runners and professional athletes who want to improve their performance. However, as a home user, it might be too much for you. So, let's start by comparing them and then analyze them one by one to find out the treadmill that suits your requirements.
Comparison chart of the best treadmills of 2020
Detailed Analysis of Best Home Treadmills For 2020
Now, let's analyze these treadmills one by one in detail to help you make the right decision on choosing the best treadmill to complement your home gym.
Weslo Cadence G 5.9 Treadmill Series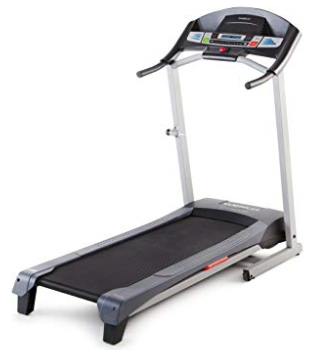 It's the best treadmill option for beginners and is the cheapest machine. However, it brings together many amazing features despite its low price.
The Weslo Cadence Treadmill that has earned a place in this guide, thanks to its ability to hold up to 150 kilograms of weight, it is also easy to fold and has a sturdy build. It includes heart rate monitoring and six types of personal workouts, features that are not normally found in a basic model.
Its Heart rate monitoring feature helps you control your workout and improve your fitness level, which ensures you get healthy challenges and get the most out of your training. This treadmill also comes with two incline angles, in case you want to add another level of difficulty to your training.
Also, we have chosen this as one of the best treadmills since it boasts a wide surface area of about 34X102 centimeters so that you can run with total freedom and safety.
But there is more! It comes with a digital screen on which you will be able to see all the essential health and performance data that we want from these types of devices (calories consumed, distance, time, and speeds).
Key Features of Weslo Cadence G 5.9 Treadmill Series:
Fully foldable space-saving design.
Accurate heart rate reading with Easy Pulse sensor
LCD display that tracks vital training and health data and monitors progress
Exclusive comfort cell cushioning protects joints
Six training programs to help you plan.
Two incline levels for training variation.
---
XTERRA Fitness TR150 Folding Treadmill
The treadmill is the best value for money.
Due to its 12 preset programs, its 3 degrees of inclination and its multiple speeds, developed by 5 inch LCD display , the NTL17915 T 6.5 S Treadmill is considered as one of the best value models on the market, since you can enjoy these features for an average price.
This is ideal for those looking for a no so expensive treadmill but at the same time resists frequent use and supports extensive and robust workouts.
By getting this gym device for the home, you will have the possibility to have better control of your training through its console, which will throw out all the data related to your performance.
The dimensions of this Cecotec model are 16″ X 50″ inches.
TR150 Treadmill Features
Lage TR150 Features
Speed keys with preset settings
XTRASoft Cushioned Deck with multiple points of cushioning
---
NordicTrack T Series Treadmill.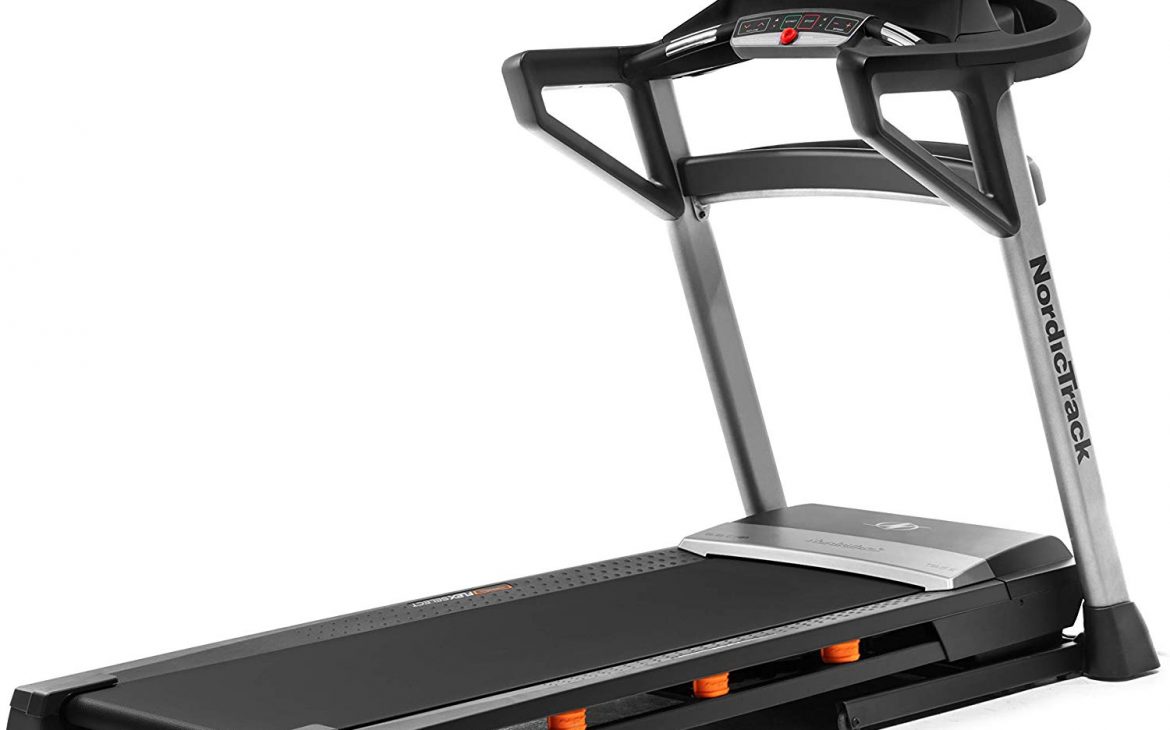 The best Treadmill for professional use.
Finally, let's talk about a Treadmill that falls in love with anyone interested in getting one of the best treadmills on the market today. This is nothing more and nothing less than the NordicTrack T Series.
The T Series is considered one of the best options within the high-end category, so we highly recommend it for professional use. It has a reasonably quiet motor, which will allow you to run up to 20 km/h and can load two bottles to hydrate you while you train.
It also has a 42 × 120 cm running surface and is equipped with a high-tech technology composed of 5 layers to ensure user safety.
Although, we must also highlight its 7" HD SMART Touchscreen Display that shows all the necessary data to improve your performance.
This model is one of the most affordable in its category, making it ideal for those who want to run to a high standard.
See Price
:::::::::::::::::::::::::::::::::::——
---
Nautilus T616 Treadmill
The Nautilus T616 is an upgrade from Nautilus from the T614. The people at Nautilushas has given some fantastic features to this new T616. The first thing is the CPH engine, which speeds up to 3.0 horsepower continuously, which makes The Nautilus T616 treadmill a really powerful and efficient machine.
Its StrikeZone cushioning system to provide unparalleled comfort and relief for long-running sessions.
The Nautilus T616 treadmill has many features that keep people entertained like sports equipment. The machine includes an MP3 player, training programs, and three different options for performance monitoring. Its connectivity with devices is almost unmatched by the competition.
Its DualTrackTM console has two backlit screens that can display your exercise data. It is effortless to see in low light.
The machine has 26 programs ranging from occasional workouts to heart rate profiles to intense interval workouts.
Bluetooth connectivity is one of the fantastic features of this treadmill. It can transfer your operating data via Nautilus Connect, the Nautilus Trainer app or MyFitnessPal.
In addition, the T616 is the best treadmill for the home, especially due to the USB charger, an MP3 input port, speakers built into the console and an adjustable fan.
Key Features of Nautilus T616 Treadmill
---
Types of home-use treadmills

These home workout gadgets can work in two ways: Electric powdered or Manual. The purpose of a treadmill is that you can run at the comfort of your home, very similar to elliptical bikes.
Therefore, there are two types of treadmills:
Manual running Treadmills: They work through an inertia wheel and, the speed and resistance of the machine depend on the strides performed by the user. They are characterized by having a slight inclination to promote the movement of the wheel.
Motorized running belts: These machines operate with a motor with digital or analog control, which allows the user to choose the speed, duration, as well as the angle of inclination.
Both professionals and beginners can use motorized treadmills, and due to the availability of affordable models, these machines are also preferred by people who want to setup up a Home Gym.
---
Benefits of Home treadmills

Let's discuss a few essential facts you should know about this gym equipment and the benefits they bring.
They generate less impact on joints.
Good quality treadmills come with an impact absorption mechanism, so the stress on joints decreases quite a lot compared to when you go out to run outside. They're recommended for the well-being of the ankles, knees, and back. These machines can also be used for better recovery in case you have any injury to these areas of the body.
You are losing those extra pounds.

If you are looking to lose weight from home or improve your physique, these types of equipment function as an excellent tool to achieve your weight loss goals, as they allow you to burn a lot of calories, however, for best results, you must use it regularly and supplement the exercise with a proper diet.
Strengthens the muscular system.
Using treadmills keeps the muscular system in good condition, although they're also beneficial for the skeletal system as a whole. Training with these machines keeps your muscles, joints, tendons, and bones healthy and in optimum condition.
Reduces the risk of many diseases.
Running is a highly recommended exercise to keep your whole body in good health. It decreases the chances of developing several diseases, such as diabetes, arthritis, breast or colon cancer, high blood pressure, etc. Many experts argue that running regularly helps reduce premature death.
Train 24/7.
Having this type of gym equipment at your home make sure that you do not have to worry about the weather conditions, the irregular surfaces in the street, the lousy lighting.
Therefore, with a treadmill machine your home, you can improve your fitness at any time, all without having to worry about other factors that may prevent you from running outdoors (rains, cold, insecurity, etc.).
Multitask while burning calories.
One of the benefits you gain from treadmills is that you can perform other tasks while exercising, such as; watch TV, surf the web, check emails, read a book, listen to music, etc.
Track your progress.
When training with a homemade treadmill, you will be able to get information about the distance traveled, the speed at which you have raced, and the inclination of the running "surface." Each of these data can be saved and thus check the evolution you have achieved.
Things to consider before buying a treadmill for home.
Although we have listed the three best models of homemade treadmills that you can find in the current market, you must take into account the features you want in your running machine when making an investment.
Factors To Consider Before buying a Treadmill for home use
Decide on its use
Determining the use, you are going to put it to this fitness device at home is paramount, since it'll help you decide on the features that the machine you need must offer. By doing this, you will be right during the selection process.
It's crucial to analyze whether you want a treadmill for walking, running, or training at high speeds. We also recommend defining the time of use you are going to give it and whether other people at home will train with it.
Size and surface.
When buying a home running machine, we advise you to consider your height so that you buy a treadmill that is the right size for you. And the higher you are, the longer your strides will be. Don't forget that your comfort is paramount when training.
If you are taller than 1.80 cm, you must opt for a model that has a minimum surface area of 42-120 cm, but in case you have a lower height, you can opt for one with the surface area of at least 98-36 cm.
Also, make sure you choose a machine with the right power output. It is one of the features that you must pay close attention to in case you are going to choose a motorized device because it has to be able to withstand the speed that you want to reach in your training sessions. Also, look at the maximum weight that the model resists.
It should be noted that the inclination of the treadmill also affects the power required by the motor. Theoretically, a person weighing 80 Kg typically needs a 1.5 horsepower running machine, although the most recommended power is 2 hp, especially if you run at speed exceeding 15km/h.
How fast can it run?

Not all home running machines can reach high speeds. Therefore, it is essential that you also keep an eye on this feature, because if you ignore it, you could but an inferior machine that does not suit your training level.
Mostly, beginner models reach a maximum of 12km/h. Now, if you want to get professional training, it is best to opt for a Treadmill capable of speeds up to 20km/h.
Degree of inclination.
As for this option, no matter if you are a beginner or a professional, the different degrees of inclination will always allow you to perform various workouts so that you can raise the intensity of the effort when running.
The standard tilt levels you can find in these home gym machines are 5, 10, 12 to 15 degrees.
In more professional models, it is possible to find inclinations below 2%, even 1%, a desirable feature for people who have problems in the knees or ankles. However, in these cases, it is best to avoid using any inclination.
Damping System
The cushioning system of a home treadmill protects your joints from the stress that is generated when you train.
Generally speaking, the damping system can absorb impact by 15 and 40%, so the risk of injury with these devices is lower than when running outdoors.
There are models whose damping system can be adjusted, even offer the possibility of outdoors running experience, and allow you to prepare your workout better.
What kind of console it offers.
Depending on your goals, the console is something you must take into consideration.
There are quite a few types of consoles, from the most basic, which only provide the essential data to the consoles with full-color screens, which offer various training modes and display large amounts of data health and performance to track your progress.
It's best to opt for a running machine at home that has a console that fits your needs, since the features of the console are essential for planning your training session, measuring the speed, the race time, the distance calories burned, and other vital performance data.
You may find Treadmills with consoles that have buttons or touch screens; you can even find models with larger screens that display multiple sets of data at the same time.
Here are some of the best-selling treadmills of this 2020

[table id=5 /]
Conclusions on how to choose the best treadmill for home use.
Now that you know all about the best treadmills for the home, the benefits they offer, and the features they must possess to make the right decision, we advise analyzing the model you want to buy thoroughly.
It's not always the best idea to opt for the most affordable option or the one that's better-looking because you might regret your purchase. First, define your needs as well as the use you want to put it to, and also care to protect your joints while exercising with a treadmill that's best for you.
Finally, we invite you to share this comprehensive guide to the best treadmills for home, with those who are interested in working out from the comfort of their homes or dreaming of setting up a gym at home and live a healthy life.
(Visited 47 times, 1 visits today)