Today, we are sharing three effective fruit smoothie recipes for slimming. We can drink these fruit smoothies both before and after every physical exercise. The vitamins in the fruits have an antioxidant effect, so they counteract the effects of free radicals, which accelerate aging.
Do you want to lose weight the healthy way, without having to feel weak and deprived at every step and without giving up the pleasure of savoring what you eat or drink? The list of foods to help lose weight does not have to be full of food and drinks without flavor. There are many healthy options available out there that will keep you nourished without looking sick and deprived of life's eating pleasures.
There are very rich solutions to lose weight and do it with great pleasure. Solutions that can then be assumed as pure habit and begin to be a part of your life. Within these widely accepted and practiced solutions are the slimming shakes. Fruit shakes are very popular all over the world today. They are a delight and are very refreshing as well as nutritious. The best part, fruit shakes/smoothies/juices can be consumed both before and after physical exercise.
Incorporating the fruits into our lives
Of course, you already know that fruits in their generality are rich in vitamins and minerals. Therefore, they are widely used in various products for the skin and hair. However, its truly potent effect takes place when we consume them directly, when we eat them and incorporate all their nutrients naturally into our body. This direct consumption of fruits, in their original form or in tasty milkshakes, gives you, in addition, the guarantee of truly natural components that have not been manipulated with chemicals, dyes or preservatives that, in the long run, also harm our body and our health.
It may be interesting for you to know that in the specific case of vitamins contained in fruits, they have an antioxidant effect. This means that these vitamins counteract the negative effects of so-called free radicals which are nothing more than highly reactive substances produced by our own body when we maintain inadequate feeding, we are subjected to stress or are prey to sedentariness and that accelerate the process of aging, deteriorating our cells and tissues.
Why are fruits a solution?
We must not be frightened by having within ourselves a mechanism that is harmful to our body because, as we said, there are solutions and among them is the consumption of fruits. The fruits have an important amount of potassium, magnesium, bromine, copper, zinc and calcium.
In fact, you can combine the fruits into your food recipes, especially in your drinks and natural milkshakes. This will help you balance your diet and achieve not only a good figure, but also good health.
Studies have shown that maintaining a balanced diet by eating whole grain cereals, nuts, seeds, fruits and vegetables is an ideal solution for supplying our body with the vitamins, minerals and other nutrients belonging to the antioxidant group. This type of diet also reduces the risk of heart disease and cancer. Ideal for preparing natural homemade shakes for slimming are strawberry, different types of berries, banana, pineapple, melon and lemon. Here we propose five of the best shakes to lose weight and maintain the ideal body weight.
Strawberry Milkshake Delight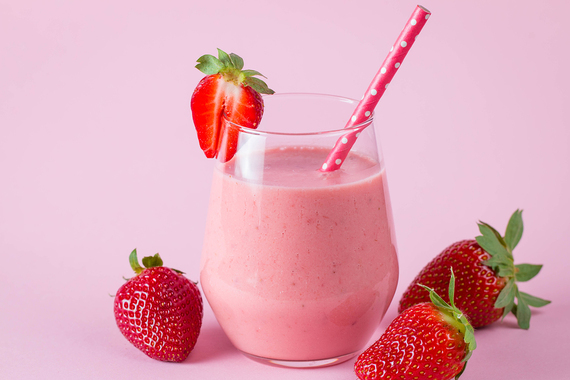 Strawberry is a very complete fruit in terms of vitamin complex. It has a high content of vitamin C but also, the strawberry is made up of water, fiber, potassium, calcium and magnesium. This fruit also contains folic acid, vitamin C, and vitamin E. Its main consumption recommendation is based on its richness in minerals, vitamins and iron.
For its properties and its antioxidant power it is often recommended to make it a part of your diet if you want to fight wrinkles and cellulite. Its flavor is enhanced in a good milkshake. The combination of the strawberry with milk (skim, if you are trying to lose weight) is exquisite and delicious, so it will be very easy for you to motivate other family members to consume this fruit as well. After passing the fruit through the mixer and getting the milkshake, do not forget to strain it to extract the seeds and improve its texture. You can skip the straining process if you prefer more texture in your drink.
Ingredients for Strawberry Milkshake Delight
2 cups skimmed milk
1 tablespoon honey
1 cup frozen strawberries
1 teaspoon vanilla extract
Preparation of the smoothie
Combine milk, honey, vanilla, and frozen strawberries in a blender. Blend the mixture until smooth. Pour into your favorite glass and consume.
If you want to have a thicker milkshake, use only 1 cup of skimmed milk and add additional strawberries.
Pineapple Celery Smoothie
Ingredients For Pineapple Celery Smoothie
400ml water
300g fresh pineapple (you can use frozen pineapples if fresh is not available)
1 stalk celery
1/2 lemon, juiced
1 tablespoon honey
Preparation of Pineapple Celery Smoothie
Combine all ingredients in a blender.
Blend until smooth.
Divide the smoothie into two.
Drink the first half early in the morning.
Great way to perk you up and get you going. You can drink the second half for your lunch. Enjoy!
Exquisite and Easy Banana Smoothie
Another nutritious and commonly consumed fruit is the banana or its cousin the plantain. In some countries, it is even used as a main ingredient to specific food dishes. Banana shakes are very tasty and nutritious as well as appropriate for any time of day. Each banana contains a lot of potassium, which means it has a high energy power. When you add skim milk in combination with this fruit, you achieve a light and recommended smoothie to maintain your weight or aid you in slimming, complemented by exercises.
Ingredients for Banana Smoothie
1 whole ripe banana, roughly chopped
1 tablespoon oat bran
1 cup low fat / skimmed milk
1 tablespoon honey / agave nectar
Preparation For Banana Smoothie
Combine all ingredients in your blender.
Blend until smooth.
If you want to have little chunks of banana in your shake, just blend until you achieve the consistency that you want.
Pour into glass and consume immediately.
This drink is great when taken before your workout.
Top Five Blenders For Your Juicing and Smoothing Needs
Three Effective Fruit Smoothies Recipes For Slimming
(Visited 3 times, 1 visits today)